SPECIAL EVENT: Capoeira batizado, workshops, festival and party!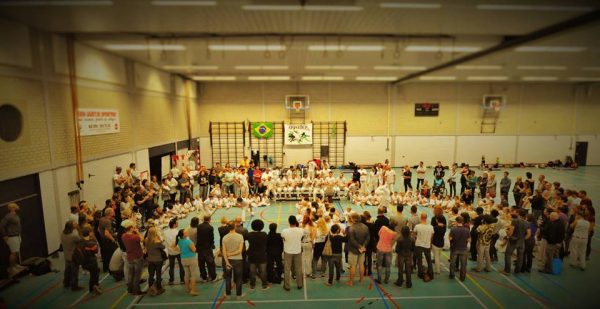 Be all welcome to participate and share your energy and passion with Brazilian culture here with our 22st edition Festival.
Batuque Capoeira Friends – Students – Professores & Mestres Guests… AXÉ !!
This year with new LOCATIONS & new LOOk !!
Workshops for beginners and advanced in:
Capoeira – Acrobatics – Maculelê – Samba & Forró Dance
Português – Batucada – Pandeiro – Berimbau – Atabaque…
Program
Saturday 11:00 – 18:00 hrs workshops & Batizado
Sunday 11:00 – 18:00 Adults and Kids various workshops,
Batizado and Troca de cordas
Locations
Event: Nassau Bredastraat 5, 2596 AK Den Haag, Nederland
Party (saturday) 21.30 Brazilian Party on Saturday night with live music & Capoeira shows at:
Café De Bieb – Veenkade 7 Den Haag
Please bring your sleeping bag if you're staying over!
BRAZIL EXPRESS PARTY!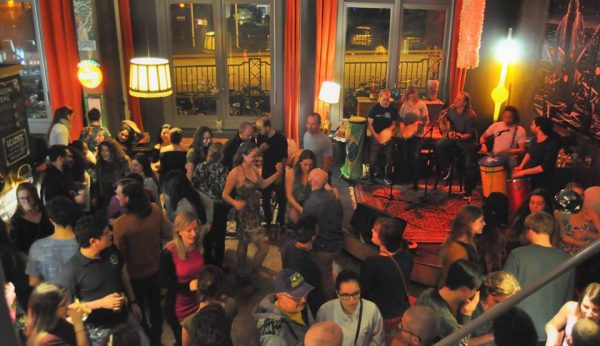 We want to celebrate these Brazilian vibes. Be Welcome!
The party is part of the annual Batuque Capoeira Festival.
An event with ours students from 14 cities in NL & guests from BR BE FR en DE…
– It is open for everybody, so bring your friends along to dance:
Samba – Forró – Samba de roda – Maculelê & Capoeira Show…
DJ Brazuka
Powerd by:
Batuque Capoeira Holland & Students
www.capoeiraholland.com – 0031 651 6903 96
Capoeira Workshops, shows, lessen en nog veel meer…
Batuque Capoeira Holland verzorgt workshops Capoeira voor scholen en bedrijven. Tevens bieden wij spectaculaire shows of demonstraties aan en verzorgen wij vaste lessen door heel Nederland.
Neem vrijblijvend contact op voor de mogelijkheden.
Capoeira
Een uniek Braziliaans spel van vechtkunst, acrobatiek en muziek. De lichaamstaal en filosofie van Capoeira zijn de afgelopen 300 jaar gevormd door de vrijheidsstrijd van Afro-Braziliaanse slaven. Capoeira is dan ook een bevrijdend spel dat de wereld -letterlijk- op zijn kop kan zetten!
Onze groep
Onze groep heet Batuque Capoeira Holland, in 1995 opgericht door mestre Vladimir Frama (uit Ceara, Brazilië). In twintig jaar is BCH uitgegroeid tot een dynamische en hechte groep met een passie voor Capoeira en Braziliaanse cultuur. Dat Capoeira voor iedereen is, bewijst de samenstelling van leden: van 4 tot 60 jaar en vanuit alle achtergronden en nationaliteiten. Capoeira geeft ons bewegingsvrijheid, fysieke uitdaging, muziek, veel energie en een levensfilosofie. De positieve vibe van Capoeira willen we daarom maar al te graag over brengen in onze workshops en shows!